The Beast Southern Kitchen Burger is a cosy American style bar and restaurant located in the heart of town in the North bridge neighhourhood, Singapore. Let's see what Southern riches are there in store for us.
Specifically, the establishment is located along Jalan Klapa. There are both indoor high table and (mostly) outdoor seating. A bar resides on the air-conditioned interior. The restaurant long bar is nicely decked out with rows of beer kegs.
There are however, very limited indoor seating. Also, do note that there are only limited roadside parking here. along Victoria and Jalan Klapa street. It is a 5 mins walk from either Lavender or Bugis MRT.
The $125 Beast Burger
The highlight offerings here is their Beast Burger challenge. The Beast burger is one heck of a huge burger, a behemoth I would say. The burger, costing $125 SGD each sits almost a foot (30cm tall). It is a gastronomically heap of beef, pork and fried chicken.
Here, you get 1.6 pounds (720 grams) of juicy beef patties, a pound of slow cooked pulled pork and 1 pound of southern buttermilk fired chicken. Putting it together are good servings of slaw, lettuce and tomato wedged between custom 9-inch diameter burger buns. It is quite a sight to behold, let be consume.
Remarkably, I didn't even know they make burger buns that big. Your beast of a burger is held together by a long knife skewered from the top dun. Like an alternative to a giant pick stick I guess.
And if that is not enough, your beast burger is served with an additional side bucket of sweet potato fries. The burger can easily feed 4 hungry pax with ease.
Beast challenge
The burger challenge I speak of requires you to consume the giant contraption, within a timed hour. Having said that, you can simply just walk in, request a Beast burger (takes about 20 minutes to prepare tops), eat it within 60 minutes and you will be immortalised on the restaurant's hall of fame. And yes, do not have to pay a cent.
The challenge involves only one person per burger, with no sharing and everything (including fries sides) must be eaten. Those who did not finish will have to pay for the entire burger. A look at the leader board plastered on the kitchen door inside the bar showcases the current top-dogs. Led by Matt Stonie from USA finished it in 8 minutes. The longest record took 50 minutes to finish the entire meal. Good to know!
Normies menu items
The beast burger is good for an entire meal and pretty much, the food you need for the entire evening. If you demand something less stomach-stretching, their traditional southern menu offerings are pretty good for a start. Also, it is tad a more affordable option of that from the Yardbird southern kitchen in Marina Bay Sands we visited sometime back.
Recommendations includes their southern fried chicken ($20) as well as their char grilled rib-eye steak ($36), with a choice of doneness. Additionally, you'd be cool if you are just here for a meal to chill with friends. During weekends, you get live band music which plays off a small section on the exterior of the restaurant.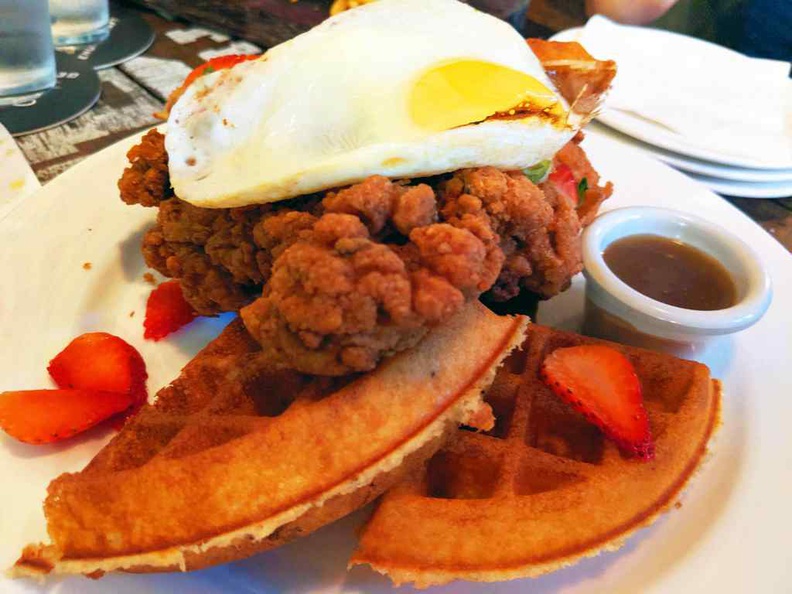 Additionally, their Chicken and waffles ($20) is a mix of fried chicken fillets served with crispy freshly baked waffles. It is topped with a sunny-side up egg. Interestingly, it is decorated with strawberries and served with maple-butter syrup sauce.
Burgers and steaks, you name it
In addition, Beast Southern Kitchen dinner mains includes a rather extensive selection of western grills, fish and pasta dishes. Such as the Snapper Jambalaya Pasta and Farmboy burger ($22).
It is a 6 ounce beef burger topped with tomatoes, lettuce and pickles. Additional burger options worth making a mentio includes their Nashville chicken burger ($20). It is a boneless chicken thigh, served with fries. It is tad like buttermilk fried chicken fillets sandwiched between brioche buns and served with Cajun fries.
Try their country-fried steaks
Additional notable menu options includes their country fried steak. You can't get any more Southern American than that. Furthermore, additional good food worth trying would be their battered country-fried steak ($24). Also, it comes served on a hot pan swimming in generous servings of Cajun buttered corn, and served with long beans, bacon and doused with creamy country gravy.
Furthermore, their Buffalo wings ($13), Baked cornbread ($8) and Southern poutine are dishes great for sharing. Notably, their poutine fries ($14) are doused with sausage gravy, mozzarella cheese and a sunny side up egg.
Moreover, the outlet also serves notable brunches on top of a dinner place. Moreover, the establishment does an all you can eat a la carte chicken buffet ($25) on Tuesdays. Also, you have a choice of "unlimited special chicken of the week" and also served with baked cornbread, 2 sides and dessert of the week.
All in all, Beast Southern Kitchen is quite an interesting gem in town for good burgers of all sizes. With the exception of rather slow service on a couple of my visits, the place does make up for it with good menu offerings, quality and chill ambience.
Verdict:
Must Go! | Actually pretty Good | Worth Trying | Shortlist Optionally | Should Avoid

Beast Southern Kitchen + Bourbon Bar Locality Map
17 Jalan Klapa,
Singapore 199329
Open daily from 5pm to 12midnight.
Earlier opening hours at 11am on weekends.
Extended opening hours till 1am on Thursdays and Fridays.