The Singapore Bicentennial experience is an exhibition and visual showcase marking 200 years of Singapore's history, from Singapore to Singaporean. In addition to my previous post on the Fort Canning Bicentennial Experience indoor shows, another large aspect of the Fort Canning exhibition is an outdoor display area. It is called the Singapore Bicentennial Pathfinder.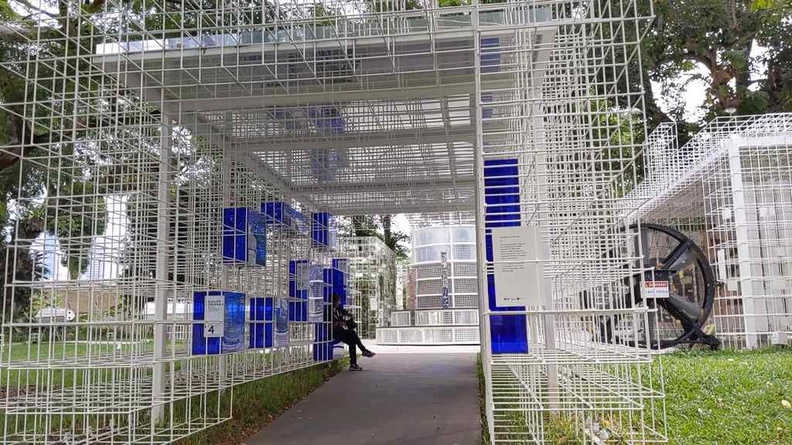 Call the Pathfinder, it is essentially a curated collection of outdoor pavilions. Here, it follows through a logical pathway with some points of interest. This sector probably won't take over an hour exploring. Here, you can experience in-addition, Singapore's 700-year old history through space.
Emporium of the East
You start off with a gallery made out of a collection orthogonal white sticks. Houses plaster collection of artifacts and takes you through Singapore's place in the world across the centuries. Each of these artifacts tells their respectively stories. This space simulates Singapore as an Emporium of the East between the 14th to 16th century, featuring replicas of trading goods that were found in Singapore and the surrounding region in this period.
You can photograph the QR codes on each item to bring up a virtual tour of the item. From your mobile device, you can access information on our historical connection to the region's culture and trade.
Additionally, if you wish to see the item in person, you can do so at the Singapore National Museum just a short walk from Fort canning. Leading to the end of the Emporium is the coloured lightbeam structure.
Changing Coloured Lightbeam
Remember the voting station at the end of the Bicentennial acts? Each night, when night falls, a powerful vertical light beam will shine from the center of this Pathfinder outdoor structure.
The top vote representing one of the Bicentennial DNA traits: Openness, Self-Determination, and Multiculturalism will be selectively lit in each of its respective colours here. During the day, the Lightbeam itself is a sculptural feature of mirrors and metalwork.
Fresh flora in Seed Conservatory
Moreover, sitting outdoor by the light beam is the Seed Conservatory. It is essentially an open-concept planter "greenhouse" housing a collection of historical flora of Singapore over the last 700 years.
Also, featured in this pavilion are native plants of the region, as well as those alien species imported or brought here either by forces of nature. Their purposes for cultivation range from aesthetic to economic needs.
Maritime House of Maps
Suited around the Lightbeam, the House of Maps showcase maps that charts Singapore throughout history. Also, it shows the evolution of the marking of Singapore's place and the various names it undertook in the world across time.
The openness of this display works as a wind kinetic façade. Here smaller cartographic volumes of maps will sway and move to the wind. This symbolises the power of external influences. An element which much shaped the maritime history of the region for the past 700 years.
The Lookout telescopes
This section often goes unnoticed unless you take notice of these large white telescopes placed throughout the garden. The Lookout consists of three white telescopes with peepholes located at both ends.
Looking through shows mural scenes of sailing ships as well as fishing villages. It showcases the sea being a large influencer in Singapore's history over the centuries.
Reflections of Our Past
Reflections of Our Past is an open water feature, open space and walkway with water features for visitors. It can be an area of tranquil or just another walkway passage for you. Your call!
Also, this area, coupled with the garden environment, it allows you to pause and ponder on their experiences and stories of the Bicentennial. On quiet days like on weekday afternoons, you can walk through here past the reflection ponds in the tune to chirping crickets in the background.
Library Pavilion of Words
The Pavilion of Words is an open-air library. Notably, you can find several small box shelves housing a variety of National Library books. You can identify them by their highly recognizable multi-coloured RFID book spine labels.
The books here is a curated selections specific to Singapore's history. Furthermore, you can find housing quotes, books, and excerpts taken from histories and stories related to Singapore for the past 700 years here. These ranges from historical quotes from key Singapore historical figures, to our writers and philosophers of today.
Moreover, here you are also encouraged to pen your thoughts of the exhibits, and share your hopes for Singapore's future using one of the many post-it note styled writing pads hung around the gallery.
Observatory
The last of the exterior exhibits is the enclosed Observatory. It is a dark installation showcasing also the only air-conditioned exhibition in the outdoor pathfinder area.
Also, the observatory used to the Quarters of Old Married Soldier's, as part of the military buildings located up here on Fort Canning. Here, various projection screens on the walls of the Observatory mimic the rotating light beam of a lighthouse. It showcases how historical events around the world coincide with Singapore's 700-year long history.
Additionally, there are several hands on interactive kiosks which you can use to learn more about travelling ships and maritime timelines of early Singapore.
Nightly Echoes Shows
Furthermore, If you visit the Singapore Bicentennial Pathfinder at night, nightly, four site-specific short films are projected here at Fort Canning Green. Created by Brian Gothong Tan, these fictional stories explore the themes of love, compassion and multi-culturalism. They are set in scenes inspired by early Singapore life.
Food Village
Hungry after a day of walking around? There is a food village right here at the Fort Canning green too, just directly opposite the Pathfinder exhibits. Food prices here are reasonable with full meals such as Western Chicken chop at $8, chicken Bolognese pasta ($10) and prawn paste chicken rice at $8. If you just want a break consider their Curry puff for $3 or a Dim sum basket of spring rolls, red bean and vegetables buns for $6.
All in all, I hope you enjoy my run through of the Singapore Bicentennial, including the indoor Acts as well as this Pathfinder outdoor exhibit coverage at the top of Fort Canning. If you have not been to the Bicentennial, do make a point to sign up for it to attend. Registration is free for Singaporeans.