Dennys American Diner is a low cost cosy restaurant chain operating all across the United States. They serve really affordable American simple diner style meals still relevant today. It had been sometime since I had dined at one, let's check it out!
Notably, the chain operates over 1,600 franchisee-owned restaurants in the United States since they started out as a donut bar in the 1953. The coffee shop back then operated under the name Danny's Donuts, where it was subsequently updated to "Dennys".
Denny's used to operate in Singapore
Dining in Denny's tad a throwback to what I remembered it to be. The Denny's restaurant setting had not changed much since I last stepped into one almost 20 years ago. Notably, they used to operate in Singapore in the Orchard road district. They are a 24 hour restaurant, and is the only branch in the country. It is tucked on the upper 2nd floor of Orchard Towers.
I particularly enjoyed their giant spaghetti meatballs which I always could not finish as American portions. Also, it is popular with diner looking to find a great bargain meal between shopping or a late night meal. It was one of the only 24 hour eateries in town back then in the 90s.
Additionally, even till today, Denny's is known for a go-to place any time of the day. They are always open and serving breakfast, lunch, and dinner around the clock. Commendably, Denny's also does not close on holidays and nights. This includes this branch in Las Vegas.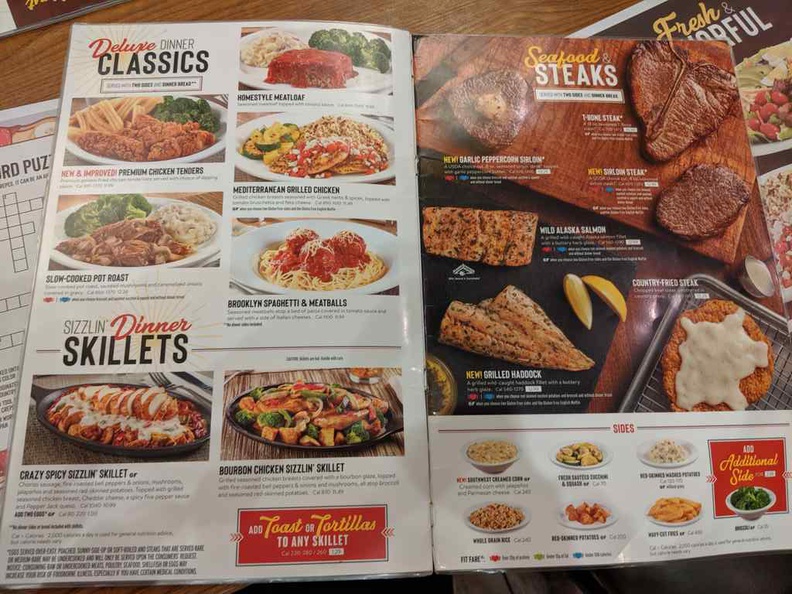 Not great food, if you are not fussy
Dennys meals are just simple food. Simply put, you get what you are paying. You also get what you expect at the price point. Having said that, the food is not top-tier quality and does taste bland. Hence, if you are here for quality fine-dining food you are pretty much in the wrong neighborhood.
However, if you just want a quick meal at a really low price, with enough to fill you up and keep you going for the day, Denny's is not where else which can do it better with a nice sit restaurant environment to boot which is not fast food.
Still, the feel of a good hearty meal at a bargain buck is priceless in that sense too. Also, you need to know what to go for here as the selections can be a gem at times. In addition, their classics includes their pasta options, namely Spaghetti meatballs which gets my recommendations. The grilled Salmon I had was surprisingly well grilled and tasty without being overly salty. Moreover, it comes served with huge carbohydrate sides of fries and mashed potatoes.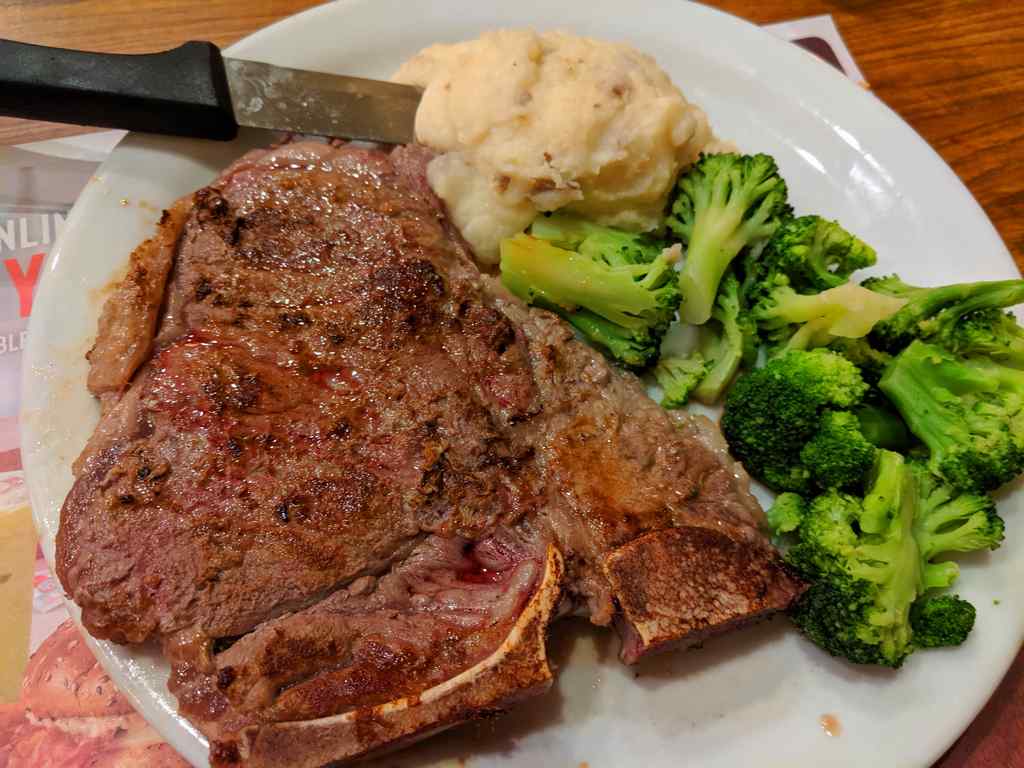 However, I would stay away from their Steaks, their steaks are tad dry, and felt like it is cooked from frozen. Also, it might be bit too though the liking to most people. Though their brown sauce does help make up for it.
A place for breakfast
Furthermore, Denny's serves breakfast all day long you mains comes with a side toast with a choice of bread and spreads. The prices offered (some costing under $10 a meal) are also in stark contrast to the hotel breakfast served across the street here in Vegas which can costs easily twice the price for similar offerings.
A popular dish are their breakfast slams. Also, their bacon and eggs are as authentic as you can expect an American breakfast to be and gets my recommendations. You get eggs done up to your liking with mash, crispy bacon and side of (rather burnt) sausages. Part of the diner experience I guess.
Additionally, their grilled hash browns are like shredded potato strips which is really unique. It makes for a really filling meal indeed. To top up your meal, you get your usual diner-style tea or coffee served in a classic ceramic mug. It is plain nostalgia.
Having said that, do not expect over responsive service as servers are usually stretched and handling multiple tables at a go. This is especially on peak periods. Still, your meal arrives rather quickly, within 10 minutes at least from ordering.
Interestingly, the location of a typical Dennys restaurants located near proximity to freeway exits, bars, and in service areas makes them a popular spots for rest and stopovers. Also, they are be usually full house on meal times, it being a popular staple establishment here in the United States.
In conclusion, will I see myself coming to Denny's again? Yes why not? If you are not fussy with your meal and like to find good bang for your buck, this is a good place to go, especially for breakfasts. Just stay away from their steaks and you'd be fine.
Verdict:
Must Go! | Actually pretty Good | Worth Trying | Shortlist Optionally | Should Avoid
Dennys American Diner Locality Map
3771 S Las Vegas Blvd,
Las Vegas, NV 89109