Fruitfulness of Forgetting is an art exhibition featuring works of art from British artist Chloë Manasseh. The event closing reception was held at the Eden Hall along Nassim Road in Singapore.
The bungalow is located along Nassim road. It is the residence to the British High Commissioner to Singapore, HE Scott Wightman, and Mrs Anne Wightman. Moreover, Chloë Manasseh's exhibition was held together with the Art Porters Gallery. Furthermore, the gallery presented Chloë various works of art on display within the walls of Eden hall in the invitational closing reception.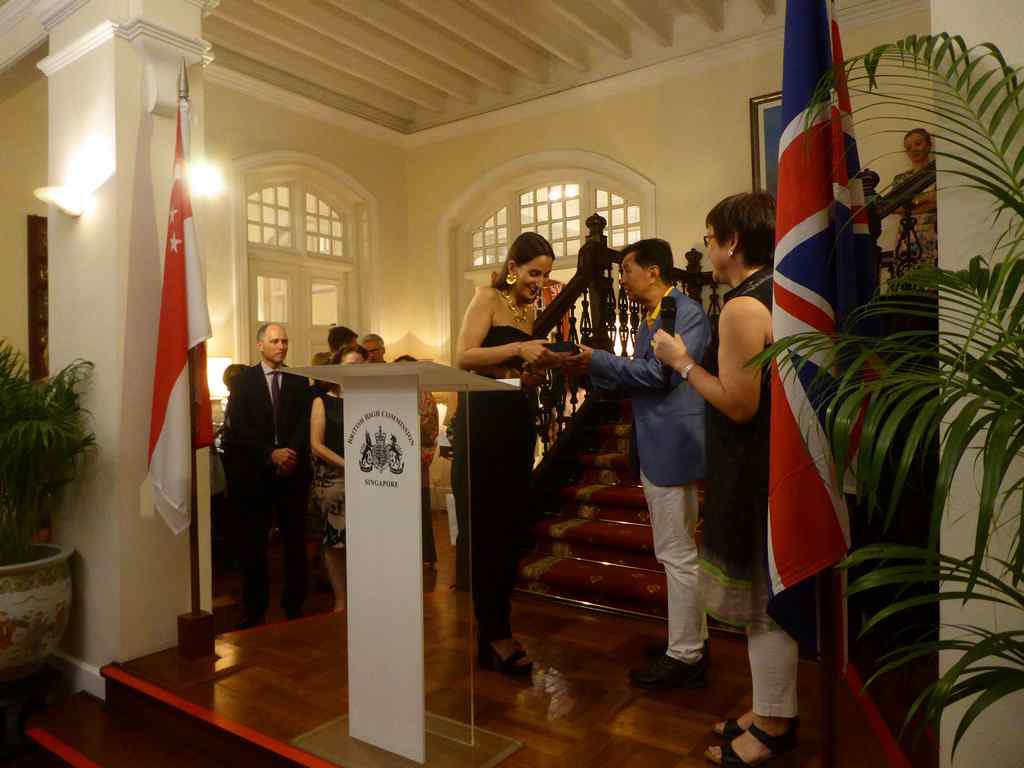 Also, laid up along the walls of the various rooms within Eden hall were Chloe's works. These includes the vast event space on the upper second floor. Her works are oils on canvas and depicts usually floral and wildlife in harmony. This is portray through a myriad of bright colours on white canvases which brings out the scene in the paintings.
About Chloë
Moreover, Chloë has a solid long-time household connection to Eden Hall. She was born at Eden Hall herself right here and the granddaughter of British architect Leonard Manasseh. Notably, she is the super granddaughter of Ezekiel Manasseh who built the mansion in 1904. Moreover, since Singapore's self-government and independence from 1959, Eden Hall has served as the house of British High Commissioners.
Furthermore, Eden hall is a two-storey old-style colonial bungalow. It sits on top of a hill with a welcome porch leading into the hall's double door entrance. A staircase greets you at the front hall leading to the upper second floor. Two hallways left and right housing lounge rooms flank this welcome lobby where the reception and host podium of the event was located as well.
We were welcomed by our hosts with drinks and a welcome speech in the lobby, where all the guests for tonight were gathered. Furthermore, the closed invitational even saw wine and finger foods served, with special mention going to the battered fish & chips "maki" rolls as I would like to call them. Apparently these were all hand-made right here on site in Eden hall. You can't get any more British than that.
For Charitable causes
Additionally, for tonight, the Art Porters Gallery (APG) and Chloë herself are also donating 15% of the art auction sale proceeds during the evening to Very Special Art (VSA). Also, VSA is a Singapore-registered art-related charity with IPC status. They involves a mission transforming and improving lives through art. They had been doing this for the previous 25 years. Moreover, VSA has empowered our very own people with physical and intellectual disabilities to make a living thru the arts.
Moreover, Chloë Manasseh's Summer Grasses (2018) was auctioned-off by VSA. The highlight 183 cm by 122 cm oil on linen went under the hammer at about SGD $9,000. Additionally, several prospective buyers had also already reserved the art pieces before the event. It was a good night.
Music by Joshua German
Furthermore, A VSA beneficiary, Joshua German, a 23 years-old pianist currently in his second year of training with VSA performed for guests at in the ground floor lounge at Eden Hall. Notably, Joshua, at the age of 3 was diagnosed with autism. He relies solely on his memory of the music scores to play the piano as performed here at the fund-raiser event.
A good event for awareness, charity and of course fish and chips! Can't get any more British than that.