Vietnam's former Imperial Capital Huế, is full of historical sights, whether its historical temples, monasteries, tombs and the perfume river or the Forbidden City located in the heart of the capital Citadel. Hoi An (Hội An) is another Gem in central Vietnam, about 120km (3 hour drive) down south from Hue, passing by mountainous roads and into Da Nang bay. The route will take you past all the glitzy hotel-lined golden beaches of Da Nang.
Hội An is a rustic 17-18th century trading port is an ancient coastal town known for its well-preserved houses and architecture. It is located in the Quang Nam Province along the Vietnam central coast.
Hoi An History
History has it that the port was once an important heavily-frequented trading port in Southeast Asia, and used to harbor foreign traders back in the day given its proximity to the sea. The port is a melting port of cultures from all over the world. It unites foreigners who crossed from the east to the west and vice-versa.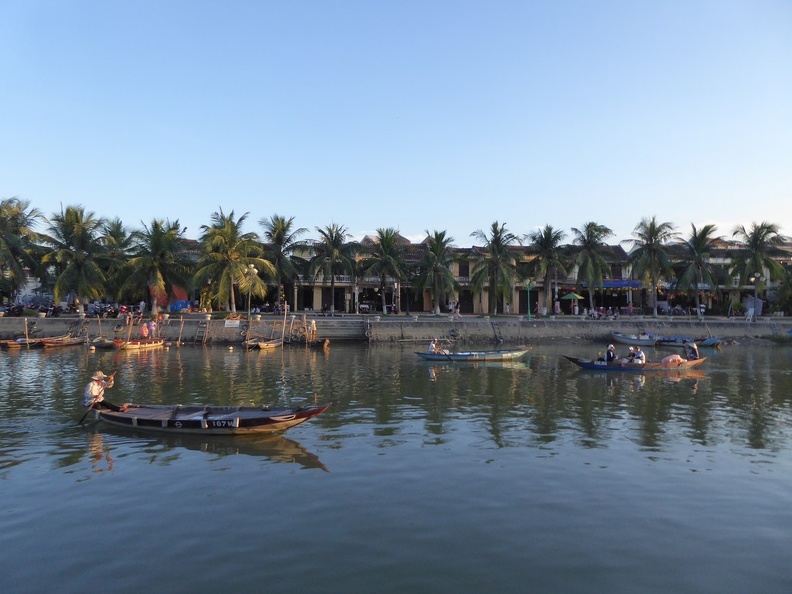 Some travelers and merchants come and go with the times, but many residents who operate here, such as the Chinese and Japanese settle in permanently and etched their marks into the history (particularly the architecture) of Hoi An.
Hence, the once major port is a melting-pot of history reflected in its architecture through an eccentric blend of south and east Asian (Vietnamese, Chinese and Japanese) grand architecture. It is quite an ecentric, yet unique amzaing sight to behold.
A slow stroll through town reveals these gems- a mix of eras and styles from wooden Chinese shop houses, complete with dark lacquered wooden doors. Here you can also find Hội An's handcrafted lanterns, temples with stone hand-crafted statues to colorful French colonial buildings, ornate Vietnamese tube houses and an iconic Japanese Covered Bridge.
Hoi An Ancient town street Panorama
This combination of buildings is oddly strange-yet-familiar that exists nowhere else in the world. No wonder the town was formally recognized by UNESCO in 1999 as a World Heritage Site.
Japanese covered bridge
The Japanese Covered Bridge is an iconic pedestrian bridge built in the 1590s over one of the many canals running through the town decorated with ornate details. It was first constructed here in the by the Japanese community to link them with the Chinese quarters on both sides of the canal, serving as a sturdy pedestrian bridge.
Till today, you can still use the bridge as a pedestrian bridge to cross from the main river into the town's many shop alleyways within, though many new modern bridges are also constructed across the same canal, providing many more alternatives.
Furthermore, the bridge structure is emblematic of Hoi An. It is built using a combination of wood and concrete. With the latter providing structural support where wood is used for panelings, the roof and the floorings.
Interestingly, a pair of monkey gods guards the entrances on each end of the Japanese covered bridge. A small temple resides at the back of the bridge, with entry a payable extra.
The Copenhagen of the east
Hoi An has to this day is home to its well-preserved most sacred treasure- centuries-old architecture. The lazy river lined with mustard-yellow merchants' houses offers very good photo opportunities when photographed across the river, as well as sandy beaches towards the sea just a few kilometers out of the town.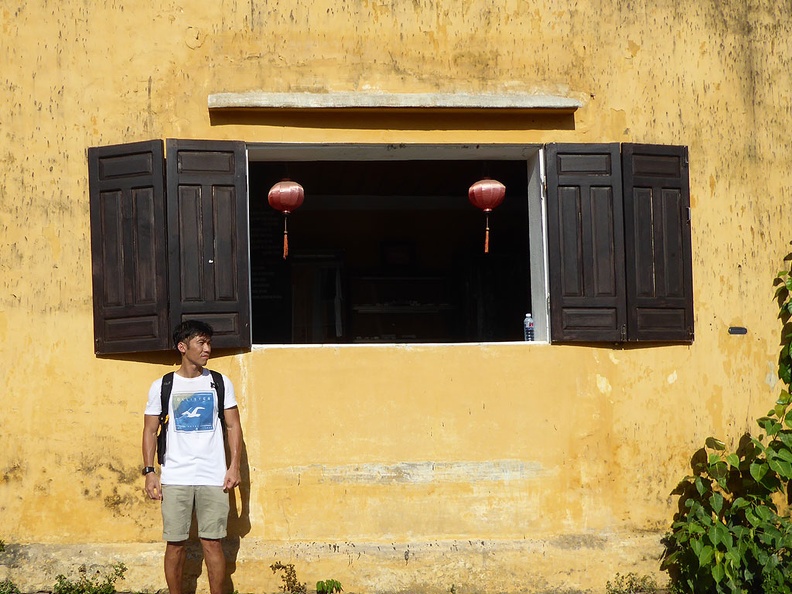 The town itself is rustic, almost like the Copenhagen and Amsterdam of the east, but only much smaller. The two halves of the town is separated by the Thu Bồn river, bridged by the Hoi An bridge. This modern bridge is lined with rows of red lanterns on it's railings and are all lit in the night.
For starters, a good way to start exploring the town is to purchase an entrance ticket (120,000 VND, about $7 SGD) at the entrance of the pedestrian town. This grants you access to 5 ticketed attractions within the town itself in any order. You don't need to buy the tickets if you are just entering the town for sightseeing, shopping, dining and do not want to enter these attractions.
Panorama on Hoi An bridge
Hoi An Temples and Historical buildings
The town is littered with old houses of historical significance, reminiscent of the past; it is almost like a journey back into time. As the town is a pedestrian only street, there is an absence of vehicular traffic, including motorbikes. As such, you are free from Vietnam's 21st-century curses of traffic and pollution, with the exception of the occasional bicycle or tourist ricksaws rushing through the streets in doves with delighted tourists in tow.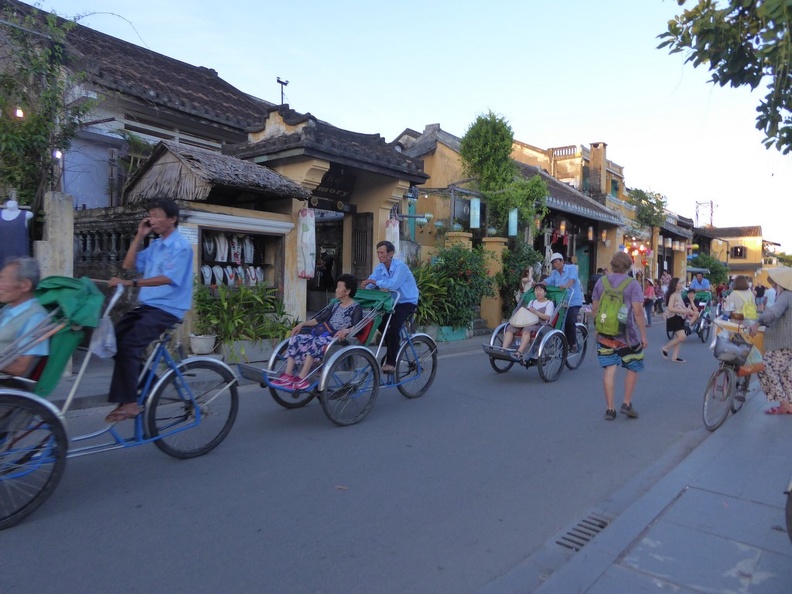 However, much of these houses are still pretty run down, a deviation from the prim and proper tourist attractions you usually see in the towns of Europe.
Consequently, this is due to repeated pounding from the coastal elements as well as major flooding in the town's past. Yet, the town owes its still well-preserved state to the silting-up of the Thu Bồn river in the 19th century, which put an end to its importance as a trading post, but helped it escape modern development and bombing during the Vietnam war.
Phung Hung Ancient House
In addition, Hon An had been the victims of various monsoon flooding which swept the town with destruction. If it is not for the dedicated restoration works by the Vietnamese tourism board that have gone into preserving the town, the town would had been in much worse state.
A visit to the Phung Hung House Historic home will tell you just that about the Hoi An floodings. There are markings in the kitchen area marking how high the flood water came to be during the flooding of 1999 to 2016, with 2009 being the highest recorded flood so far.
Inside, you are served cups of tea and brought around the house as a guest, where you are free to sit down, chat and mingle on the antique furniture inside the house. The temple houses large stone statues and fountains in its rear garden, as well as a large central courtyard where the attraction gift store is located too.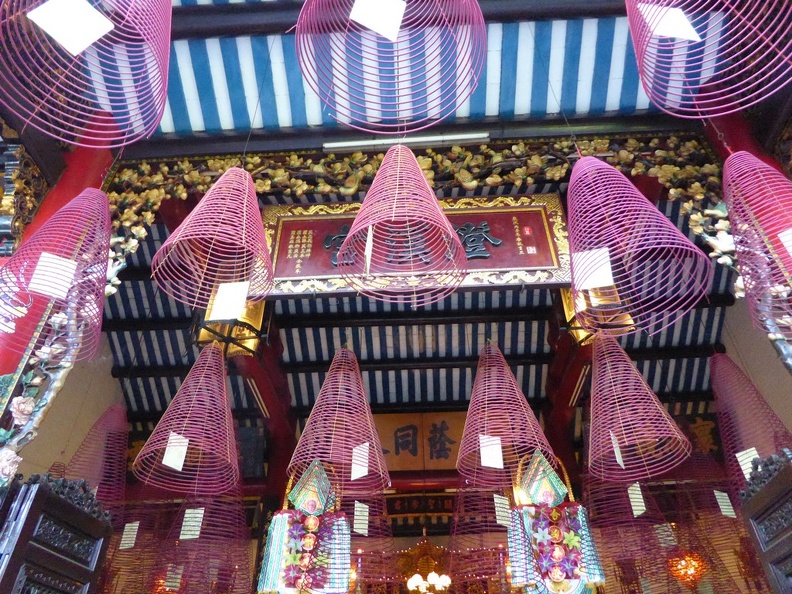 Ancient Temples and Halls
Furthermore, a temple worth visiting in Hoi An will be the Hoi Quan Quang Dong or the Cantonese Assembly Hall. Upon entering the main gate, you enter an open courtyard lined with portraits of Chinese resistance heroes in Vietnam. The Chinese All-Community Assembly Hall was founded in 1773. The assembly hall was used by Fujian, Cantonese, Hainanese, Chaozhou and Hakka congregations in Hoi An.
Also, the rear of the temple houses a mini garden. It is complete with an intricate dragon stone statue fountain and a mountain goat statue. There are a couple of Bonsai plants around the garden fronted by a large wall mural at the back of the temple building.
In addition to the Cantonese Assembly Hall, a couple of houses and temples here in the town were preserved as Museums. Museums here in the town include the Trade Ceramics Museum, showcasing a variety of handcrafted ceramic items, as well as historical sections covering trade and history of ceramics in the town. The Ancient family chapel and the Museum of Sa Huỳnh Culture too exhibits a variety of prehistoric artifacts.
Hoi An Night Life
Hoi An at night is very different from that in the day. The quiet streets and cozy café are transformed into buzzing roads, with lots of streets hawkers, cafes and pubs full of patrons lining the walkways at night.
The night time is also where you can see Hoi An's trademarked floating paper lanterns come to life. The Thu Bồn river is lit by number of floating lanterns, a traditional Hoi An figure for good luck, forming many glowing floating lights all around the river which looks spectacular at night.
You can find several stores by the river side or across the streets selling them. In addition to the rows of open air food hawkers lining the banks of the river serving very affordable Vietnamese street food, which the locals often patronize. If western pubs are what you fancy, there are also plenty of them along the river and they open till late.
Moreover, night time is also where you can find street performances on-going throughout the streets. There are several independent street performers busking by the streets, playing musical instruments to brighten up the night. Some run mini carnival games, creating challenges (such as a bamboo balancing beam) for patrons to try their skills out for a tip. There are also full-fledged Vietnamese skit shows with paid seating. These stages are usually mostly situated along the river where the pedestrian traffic is the highest.
Hoi An paper lanterns
Besides floating lanterns, another uniquely Hoi An item are their traditional paper lanterns. These mini works of art are all hand-crafted out of bamboo and wood strips, covered by nicely printed rice paper with a pattern of your choosing.
You purchase the lanterns in two parts. First, the coloured exterior bundled-up into folded cylinders which can easily fit into your luggage bag if you choose to bring one home. Secondly, the lantern wooden skeleton itself. They can be unwrapped up to their original size when removed from their packaging.
Several stalls line along the main street by the river selling these lanterns. These same lanterns line the streets overhead at night, providing for a very Asian village ambience during nightfall.
In addition, the ancient town of Hội An is much more a beguiling place to spend a few days pampered by indulgence and hospitality. The number of hotels lined along the outskirts of the city market area offers a combination of tranquility and relaxation such as spas, massages, aroma trophies as well as swimming pools to soak up after a long hot day in the Vietnamese hot tropical weather.
Shopping in Hoi An
Furthermore, there are plenty of shopping chances in Hoi An city. Lining the main river and bridge are mostly stores, cafes and pubs, which are largely operational only in the night till late. The stores in the alley ways are home to shops hawking wares of the trade. Such as the famous Hon An lanterns, handicrafts, clothing (including cheap imitation ones) as well, as your usual fair of touristy Vietnamese goods.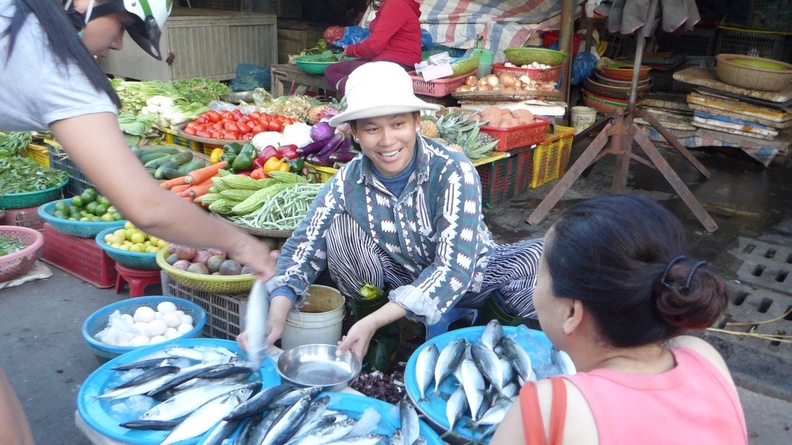 No doubt, despite that Hoi An is always being touristy and crowded, even today, it never loses the rustic feel. The old town is surprisingly extensive with many lines of walking streets one after another. These streets can really take on large crowds and absorb many busloads of visiting tourists without losing its dreamy street atmosphere.
At times, you can come by a couple of independent craftsman shops hawking wooden toys, paintings or even clothing. Coupled with the right prices, Hoi An is truly a shoppers paradise, if you know not to accept your first price offer.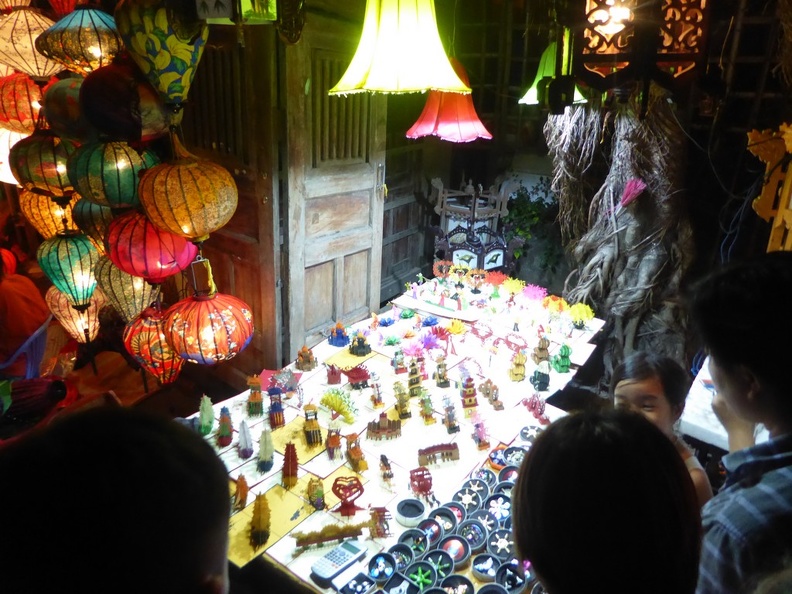 Most of the shops sell your usual fanfare of Vietnamese goods, such a bamboo wares, cheap sportswear (brands such as north face and under armour) every can be found store after store, it will be wise to bargain down to at least 30% the initial offering price. It is not uncommon to bargain a shirt from 450,000 dong down to 100,000 dong.
Food in Hoi An
Hon An itself offers a combination of affordable street food (as previously mentioned) as well as more up-market touristy-related eateries. This includes bars and pubs serving western meals such as steaks and beer to boot, which western visitors generally prefer. There is also a wet vegetable market which locals frequent.
Feeling brave to stomach the questionable cleanliness of street food? You can eat like the locals with their sidewalk vendors. These stalls can be seen sprouting up along the river side walkway pavements nearer to sunset in the evening.
Moreover, if you are adventurous, you can have a go at trying scorpion snake wine or duck embryo in these markets, a Vietnamese delicacy. Locals eat it often, for its health benefits often having it together with bottles of beer in social gatherings. Food stores here are generally very affordable with your usual fanfare of Vietnamese spring rolls, best washed down with their local Larue beer.
Also, if traditional "western food" is what you desire, Hoi An is home to multiple restaurants in many re-innovated house-turned-restaurants. They also serve cheap beer, which is popular with western tourists. This includes big hearty American meals with only a small portion of the menu dedicated to local food- much to cater for the large western tourist influx in the region.
Wrapping up
Gracefully, historic Hoi An is Vietnam's most atmospheric and delightful town. And with typical Vietnam weather, a good time to visit will be off the summer monsoon months, where the north and south will be literally raining almost every other day. The central coast is at its driest and sunniest in May, June and July.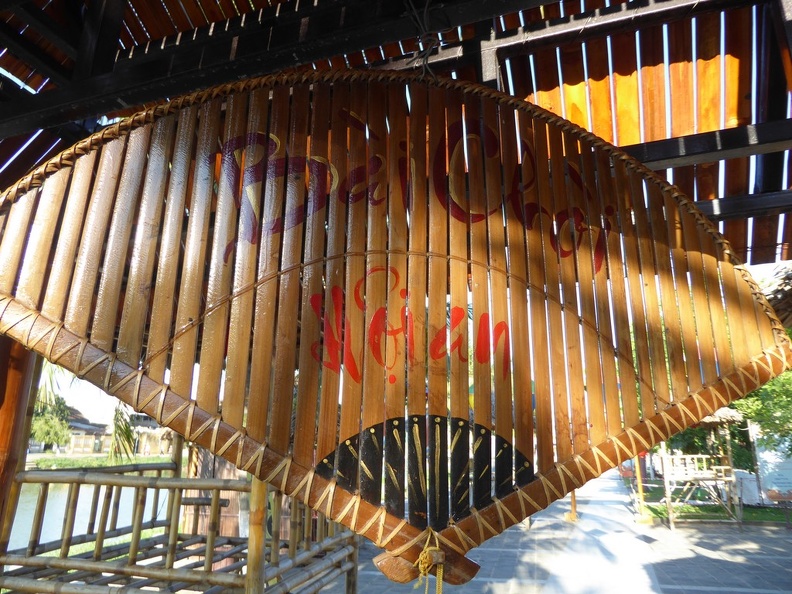 In closing, Hoi An boasts a riverside setting that befits its heritage, transporting you into a slow enlightening journey to the past, a journey which you can't experience anywhere in Vietnam.
Lastly, see more photos of Hoi An in the photo gallery here.