Here in this series I will share my favorite running route in the Central and Southern Singapore. With these few more in the series:
Sunset Way
Alexandra Park Connector
Tiong Bahru Park
Mount Faber Hill
Macritchie Nature Reserve
Labrador Park
Situated in the confines and tucked behind hills and light industries, this running route brings you the sights and sounds of our country's past together with rather breath-taking views. The place is not exactly accessible. If you were to drive there, it's just a stone throw away from Pasir Panjang with ample public parking spaces upon reaching the sea walk park car area. If you are to commute there, you can get off from round Pasir Panjang NOL building and make your way towards the hills with a 15min walk before reaching the park itself.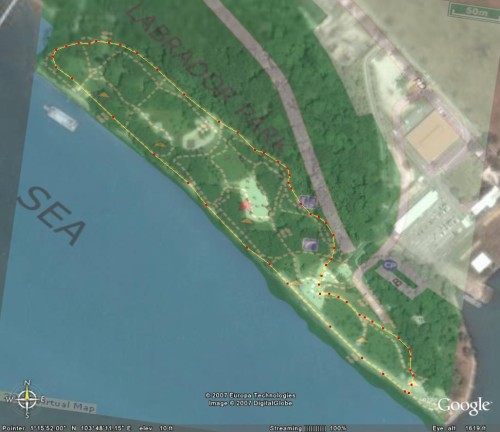 Route & Terrain (1.2km external park route)
Generally I would recommend the park as a short 3-4km addition to your planned route if you happen to have your running route passing the vicinity.
The park caters to those who like to run flat routes together to those who love hill/stair work. Take the winding hill route and be greeted by old bunkers, fortifications and pillboxes lined along the path- built on an old fortified position left by the British on the 2nd world war- all restored and tells a tale which each step. You can access the hill route from the seaside park area through the "walls of concrete" pavement or the hill-top wooden stair climb from the children's playground all leading you to an Italian restaurant establishment at the top.
The highlight route to run here is the seaside pathway route. This route, though short (max abut 1.2km on it's extreme perimeter loop) offers a consistent flat route with a nice shady route past children playgrounds and BBQ pits, not to mention breath taking and breezy sea side view on one half of the circle route. Prepare to go for repetitious loops round this path if you intend to bump up at least over 10km of mileage.
Scenery & General Surroundings
The place is exceptionally packed on weekends with open field family picnics and kite flying, given the rather strong sea breezes. Lined along the pavements are mini sheltered huts which will always come in handy in the even of the downpour.
The sea view sunsets are spectacular and are best enjoyed on the connecting jetty (which is also a popular spot for fishermen and beginner local scuba divers). Either end you start from, the sea side pathway is great long straight to run starting from the prominent jetty ending at the "dragon's tooth" sea view with a view of the Mainland Singapore-Sentosa straits, marked by a prominent mini red light house. You can see the Keppel terminal and various ships berthed along the distant horizon.
Lowdown
Labrador park is a nice place to chill and relax but not exactly a place where you can do long runs, one of the most breezy and relaxing places to run given the exception of crowds on weekends.