Bags packed and ready for the big event tomorrow.

With some new found time this afternoon while loading up songs into the MP3 player, (mmm 5hrs of songs should be enough…) let me just get on with sharing my marathon plans.
PRE RACE
Will be doing some slight stretching later before bedtime (target 10pm as any earlier, I simply can't sleep) and before I leave the house tomorrow morning (about 5am+) for breakfast then at the start line around 5.50am. Working backwards, that will be rise and shine at about 4.15am.
As it seems, as the Sun sets this evening, the excitement begins from all the prep and flagging off. The only time we will see it again would be during our battle of 42. So as 9000 participants would.
And in it's glory the SCM 06 route, similar to last year's: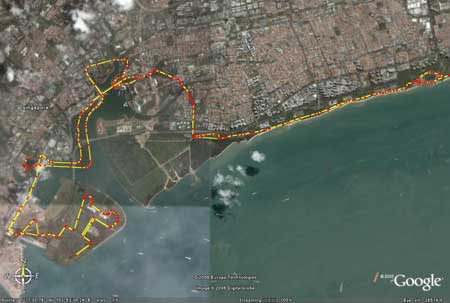 SGRUNNERS 30KM SUPPORT
Sponsored 5 boxes of Quaker Granola Oat Bars & 3 packs of muchy biscuits for the SGRunners SCM 30km support point. Though I don't intend to consume any items there myself, it's just a compliment for those helping out at the point as a whole and for the other SGrunners who really need the support.
PACING PLANS
1km – 00:06:23 (Target fastest /km pace, no faster than this)
10km – 01:03:59
20km – 02:07:58
30km – 03:11:57 (Give 5mins at SGrunners support point for photos and chat)
40km – 04:20:57
42km – 04:35:00 (FINISH! TARGET: Before 11am NOT > 5HRS)
I usually stick to 5mins/km for 10km runs and below, below 6mins/km for 21km. So accurately for a marathon it will be 6.30 to even 7.30mins/km. Songs in my MP3 player are as usual, timed to the various distances based on my pace, with light smooth music at the start of the race to "hold all my horses back" for a slow relaxing start despite all the adrenaline & anxiety to speed up at the start line once the gun is fired.
Then towards 20-29km, I will set cruise control to about 7mins/km till I reach the SGrunners 30km mark at east coast for some fuel top ups and deep-heating rub. I see the 32km – 39km being the toughest part of the race as many would have "hit the wall" by then so it's just pure mental pushing to keep on going at the constant pace, so it's mostly fast paced techno and dance songs to be automatically played then.
From 40km onwards, its simply "no turning back", what's 2 more kilometers after you've already conquered 40km. Furthermore the last 4km will be the most memorable not only being the last push but will be the only part of the race where most of the cheering and supporters would be to cheer you on to the finish.
RACE CONDUCT
Water drink stations every 1.5km after 1st 3km
100 Plus every 3km after 1st 6km
Deep Heat stations every 6km
Powerbar powerels at 23km and 31km mark
I will be sipping cups every 3km or drinking full cups every 5km whichever the situation permits. As I've learnt not to drink only when I start to get thirsty, (if so you are already dehydrated). The powergel stations will be hot, so it's something not to miss too. Aim to cover up muscle fatigue with deep heat from the 20km mark onwards. On yea and one last thing to share: never get your feet wet (unless it rains duh no choice) if it means stray spills of water from water points onto your shoes, get them dry before running or your feet will tend to blister 5 times faster. Generally my feet can last 30km of continous jogging before signs of blistering, but no more than 5km in the wet. Whats worst than able to keep up on the run cardiovascular-ly, but your blisters holding you back on speed? Just my 5cents.
Good luck to all Running tomorrow! Have an early night!