Xiaomi is widely known for their line of Chinese-made mobile phones, tablets, networking equipment, accessories and even smart TVs. Their range of Li-ion power banks are one of the best in the business, offering a blend of affordability with good quality comparable to that of much expensive brands such as Sony. The powerbank I am looking at today will the 20,000mah variant, largest of the Mi range.
A new powerbank design
In this portable battery product line, Xiaomi currently offers their powerbanks in dominations of 10,000 mah up to 20,000mah. Their best seller will be the 10,000 mah traditionally sold in the distinctively Xiaomi aluminum-wrapped bodies with curved round edges on both top and bottom.
You can find this design methodology following through in their regular-sized 10,000mah variant as well as the 16,000mah variant, with the same footprint with an elongated body offered for the latter. Xiaomi recently made a departure from that design by offering a slimmer version of the already popular 10,000mah, which is a thinner than a playing card deck.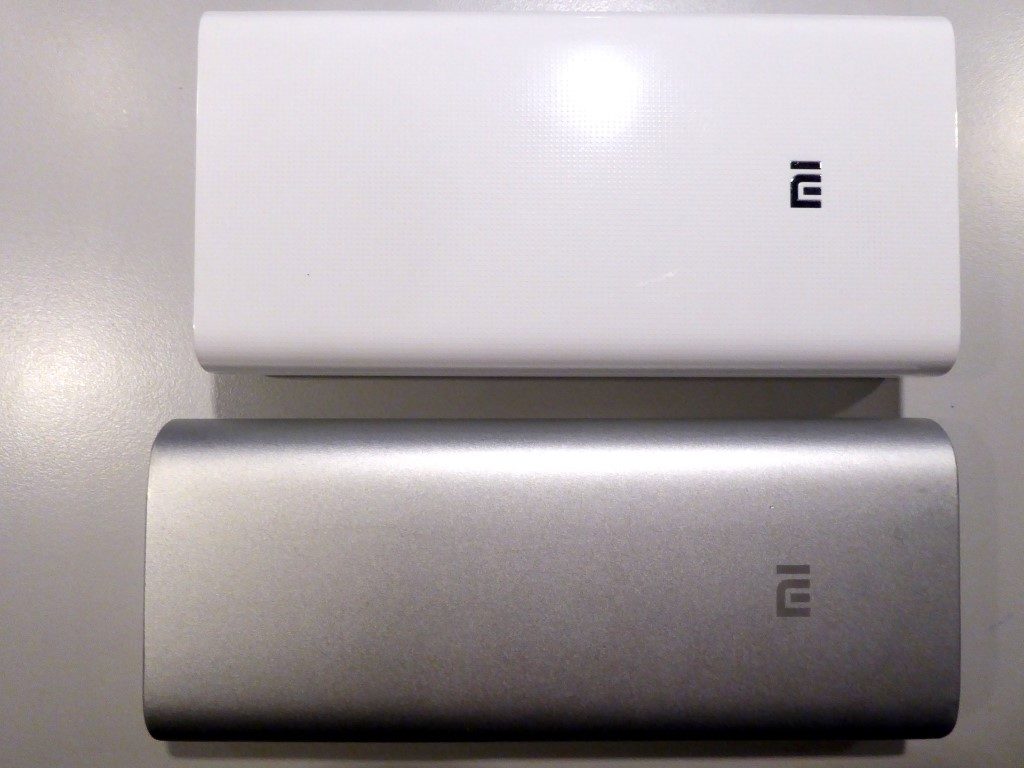 The 20,000 mah seems to follow along that line of design disruption too. It is meant to replace the now-discontinued 16,000 mah powerbank with a more compact cell arrangement and moving away from the trademarked aluminum body casing. The powerbank now adopts a new design cue, cladded in new white anti-slip and scratch resistant polymer plastic housing.
This plastic is not as sleek as the aluminum body seen on the 16,000mah, but is actually smaller in footprint despite having a larger volume (141.9 × 73 × 21.8mm as opposed to 145 x 60.4 x 22mm), making it more pocketable. It is also 12 grams lighter (338g) despite having an additional 4,000 mah capacity, commendable indeed.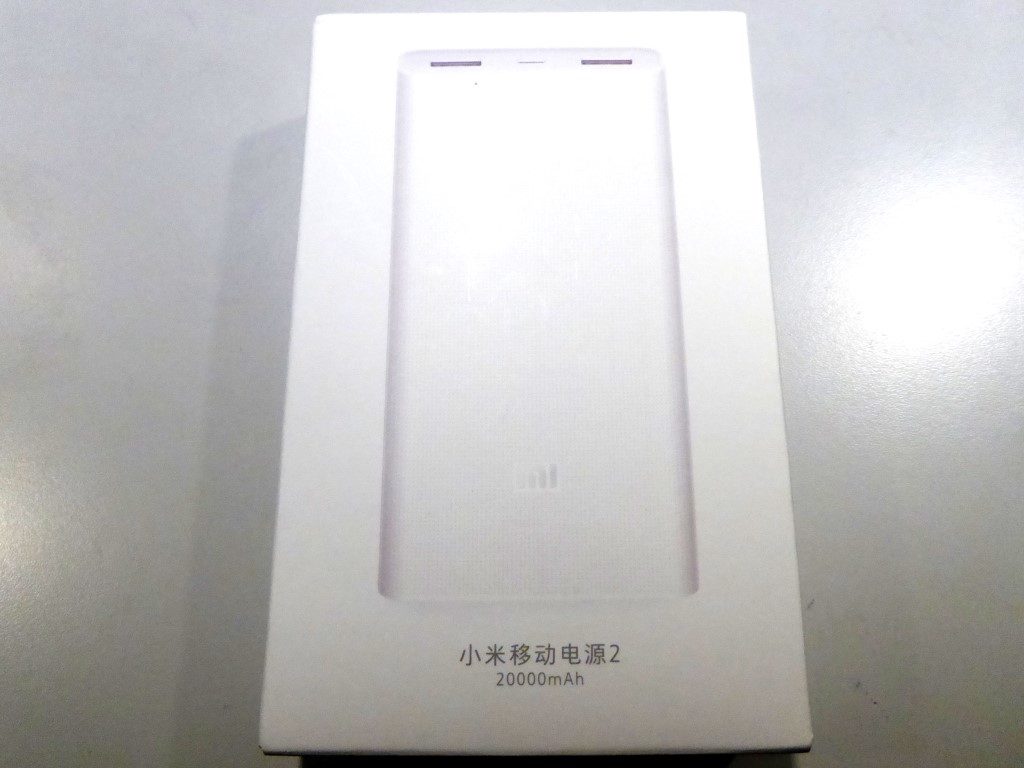 The powerbank comes inconspicuously in a plain simple white compact cardboard box packaging with stickers of authenticity plastered on its front. Inside the box, you get a guarantee/info leaflet and a pretty decently long ~20cm fast charge Micro-USB cable in white. Xiaomi do sell a fitted sleeve case for the bank, but at a chargeable extra.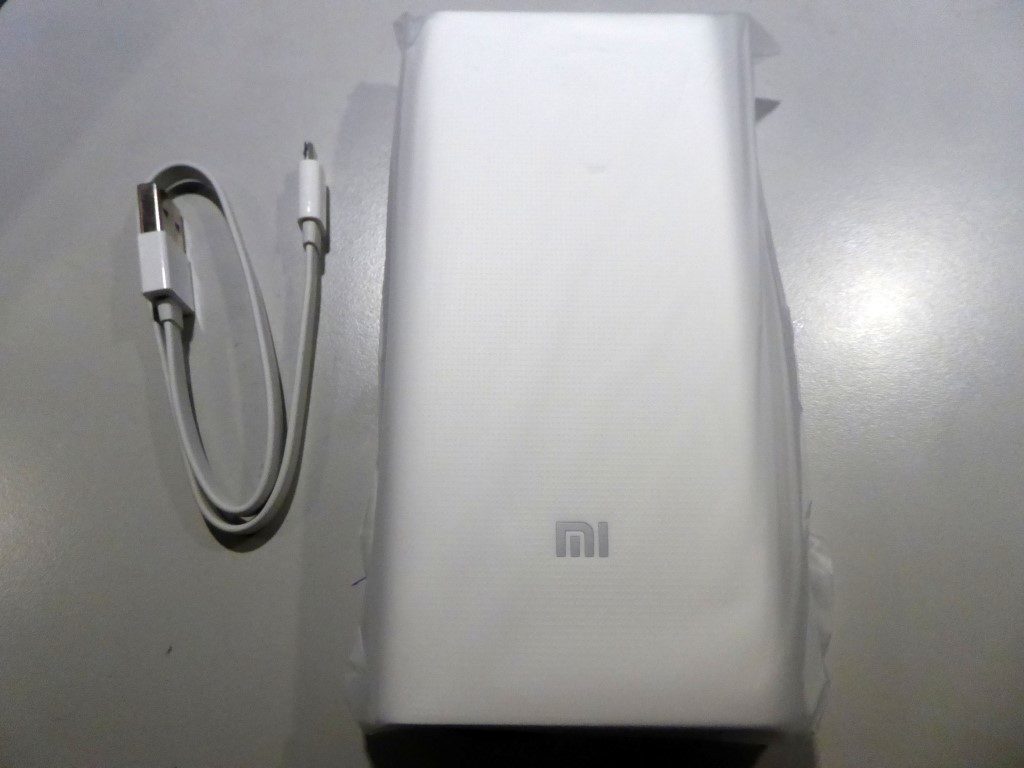 Charging Input/Output
The front of the powerbank offers two independent charging output ports. It is able to fuel fast charge devices via auto-negotiation starting at 5v @ 2.0A and incrementing from 9.0V @ 2.0A up to 12.0V @ 1.5A, though you will often see yourself doing 5V most of the time. It can output both 5V USB ports at 2.4A, 9.0V at 2.0A or 12.0V at 1.5A with these 3 modes governed by a Texas Instruments chipset offering a maximum continuous output of 18W.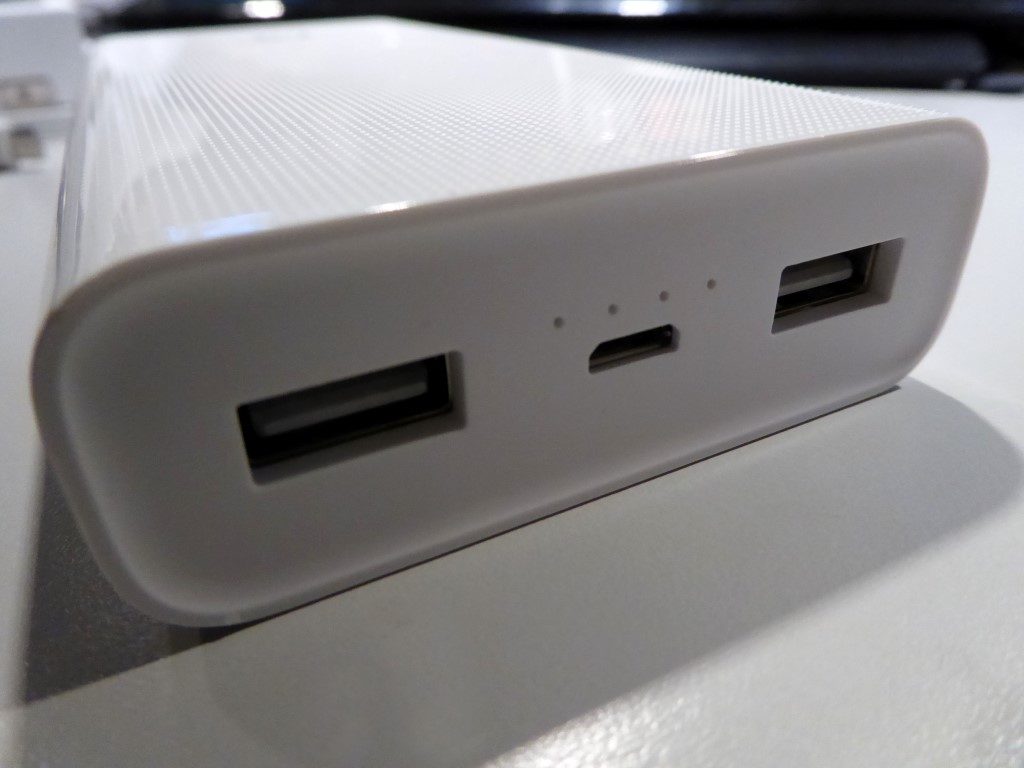 Input-wise, the powerbank accepts only Micro-USB input (no USB-C) which can be good (if your phone still uses Micro-USB for charging) or bad (if you have to juggle with the added complexity of having both USB-C and Micro-USB cables). The absence of USB-C input is surprising considering Xiaomi's newer 10,000 mah power banks have them, so it is puzzling to see the omission here at the expense of charging time.
Charging the powerbank is tad much slower. From a 2.4A USB socket through a similarly rated 2.4A Micro-USB cable at room temperature, it takes about 3 hours to charge from 0% to 50% (2 bars). From here, it takes approximately an additional 4 hours to charge from 50% to 100%. As such, the total charging time is about just under 7-8 hours (good for an overnight charge).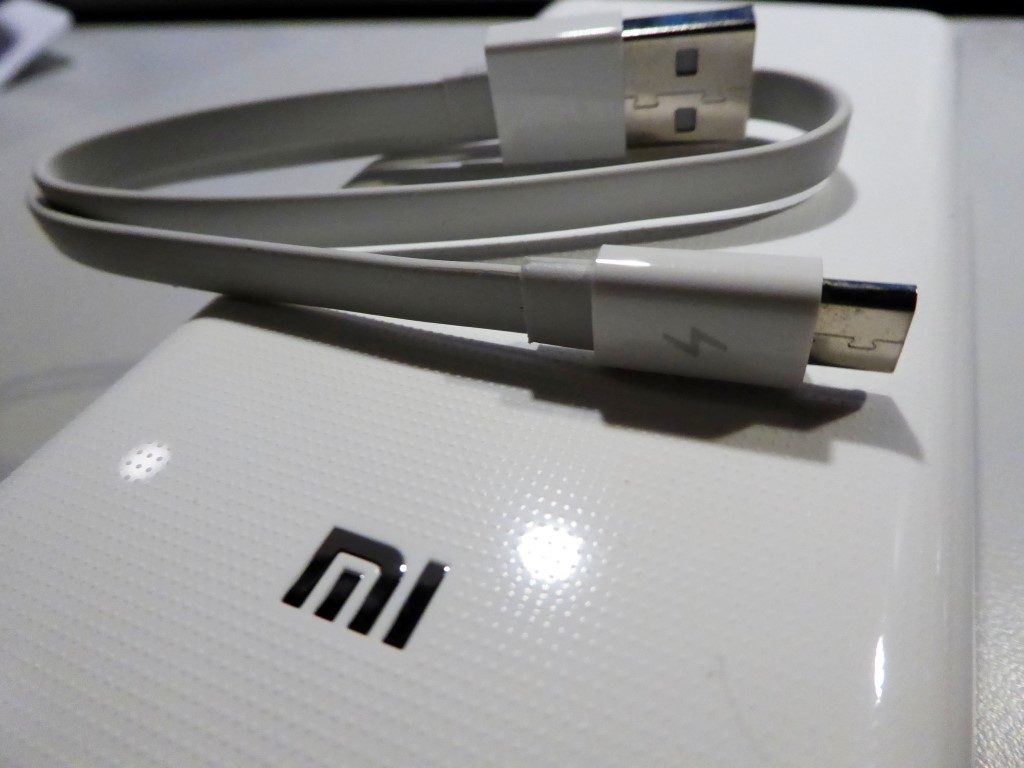 The non-linearity of the charging times is normal and expected as Li-ion cells progressively charge at a slower rate when nearing capacity. The powerbank does not work up a heat at all when charging, though it can get slightly warm when rapidly discharging through both ports at 2.4A.
Using the Powerbank
The power bank will auto turn on the moment it detects a USB device plugged into either of the 2 USB output ports, which is very useful especially if you have the powerbank tucked in your bag/pocket with an external cable, reducing the need to rummage through your bag to manually turn it on. The powerbank will stop charging after 10 seconds when it detects the absence any plugged-in devices or when the devices are fully charged and/or not drawing any additional power.
The front face of the powerbank spots a different design as with the universal Xiaomi faces. In contrast, the activation/Power-on button is now moved from the front face to one of the sides. You can also activate the side button to manually invoke the charging process, especially when charging very low power devices (such as smart watches), which does not draw enough initial current to wake the powerbank up.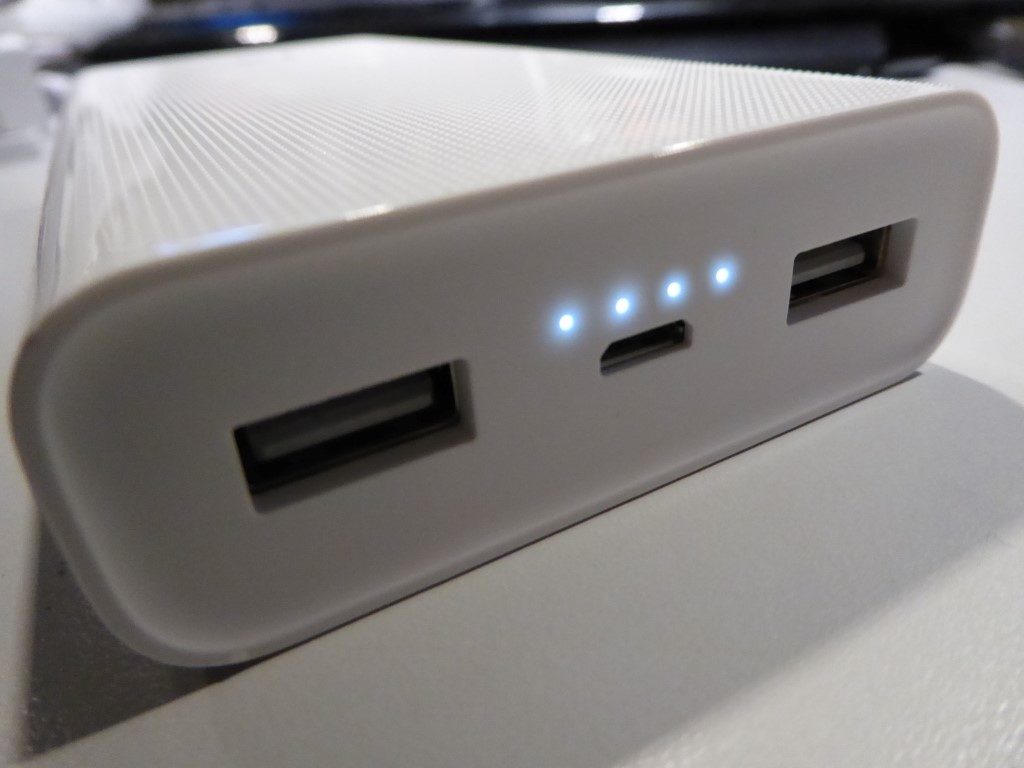 Pressing the activation button in the absence of a device plugged in/not charging will flash the battery capacity of the powerbank, denoted by a series of 4 white LEDs located above the powerbank Micro-USB charging inlet port. These 4 LED indicators is the only design element still retained throughout Xiaomi entire powerbank range which is intuitive, simple and effective.
Real world usage
Xiaomi claims that the 20,000 mah power bank has a 93% conversion efficiency, with enough juice to charge high power devices, such as ultra-portable laptops and tablets (e.g. a Macbook via USB C or Microsoft tablets like a surface 3 via its Micro USB port).
As with all portable powerbanks, the 20,000mah rating is at 3.85v, which is the nominal voltage for the li-ion cells typically used in mid-range powerbanks. This correspondingly translates to a typical 5-volt capacity of 14,000mah typical, which is the number of amp hours to power an actual 5v USB device.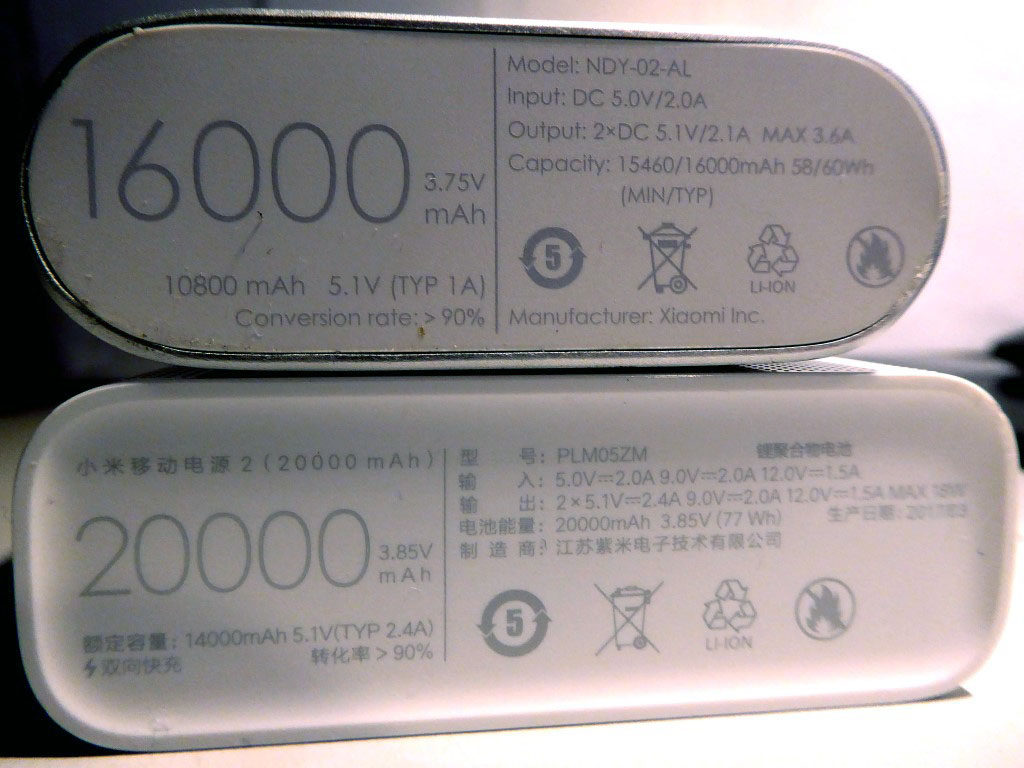 However, since most phone batteries also operate at 3.85v, you can simply mirror off the powerbank 20,000 mah 3.85v capacity almost 1-1 as the actual available capacity to charge your devices. If you were to exclude minor heat losses from the voltage regulator and wire transfer losses during charging (total about 93% efficient), the effective capacity catering for losses realistically will be about 18,000 mah available.
After using the powerbank for 3 months as a road warrior who charges all my devices (laptop, digital cameras, wireless speakers, go-pros and phones) all via USB, I found it is the perfect device allowing you to keep you running on the road, especially between long commutes or on flights not offering USB port charging.
From 100%, the powerbank can easily give me two full charges on my phone with a 3,400 mah battery before dropping down to about just over 50-60% (2-3 lit LEDs) remaining charge, supporting the efficiency hypothesis. The powerbank thereafter was able to fully charge my 28 Wh (3,733 mah) Surface 3 tablet while still in use, before dropping to about 20% capacity (1 bar). I managed a final full charge to my phone before running the powerbank completely flat. This test was done over the period of 5 days, and the powerbank was able to retain its charge very well between device charges, with near-negligible standby loss. Discharge rate is fairly linear from full all the way to 0%, so no sudden jumps to single bar/0% charge from say 50%.
Pricing and the competition
The Xiaomi powerbank is placed at a value price point which is really hard to beat. I purchased mine at $39 SGD fulfilled and shipped from a Singapore online retailer based in Sim Lim Square through Lazada. Purchasing the same powerbank in-stores like the Mi-shop in Suntec Singapore will set you about $10 more on average. An equivalent model from Sony, Sanyo or APC will set you back easily over $50 to twice the price I paid for the Xiaomi. The powerbank pre-charged from the factory at least 50% full, allowing you to use it for an energy charge when buying it off the store.
The use-case for larger capacity powerbank is very useful especially if you intend to use it to charge multiple devices on long travel trips away from a power source, reducing the need to hunt for power sockets at every opportunity. The Xiaomi 20,000 mah power bank is one of the largest in the business, with the next being the Anker 25,000 mah battery, similarly priced at about $40 SGD too. The Anker seems to solve the issue of long charging times but offering dual USB-C inputs for charging. Next level up and you are looking at combination/universal powerbanks in the range of 30,000 to 40,000 mah, which can be used to charge 19v laptops, but are bulky and not as ultra-portable.
In all the Xiaomi 20,000 mah powerbank is one great addition to their range of already reputable range of portable power options. It fits very nicely with a balance of real capacity, portability, quality and price. I won't hesitate to recommend it for any mobile road warrior.
Pros
Large real capacity
Small footprint and lightweight
Affordable price
Good quality
Does auto-negotiation on USB-C
Cons
Long charging time
Additional USB-C input will be a welcome
Plain dull design
Case is a payable extra