The Maker Faire is a celebration of the maker movement that is to celebrate arts, crafts, engineering, science projects and the Do-It-Yourself (DIY) mindset. This involves the gathering of like-minded people who share the interest of creating and inventing stuff in a family-friendly showcase of inventions, creativity and resourcefulness. The first ever Maker Faire was held in USA on April 2006, at the San Mateo County event center. At the event, you can often see people coming up with very bizarre and original DIY creations which can be used to make people's lives better, serve an atheistic need for movies, cosplay as props or simply just things created for plain fun.
Meet the Makers
The movement since had grown global, even coming on to our shores. This year's is Singapore sixth installment of the Maker Faire held at the Singapore Science center. The Singapore show aims to showcase the young but fast growing Maker Movement in Singapore.
The event was organized by the Science Centre Singapore, A*star and IMPixel Labs to share this insight about the seldom-seen Singapore maker community as part of the month-long Singapore Science Festival which runs through this month.
The Zones of Maker Farie
Maker Faire Singapore 2017 contains over 400 booths showcasing works of the trade- from Virtual Reality, 3D printing, needle work crafts and robotics, spread across 6 zones. Each zone can comprise of a dedicated large event space or one integrated into current Science center permanent exhibits galleries spread all across the entire Science center compound.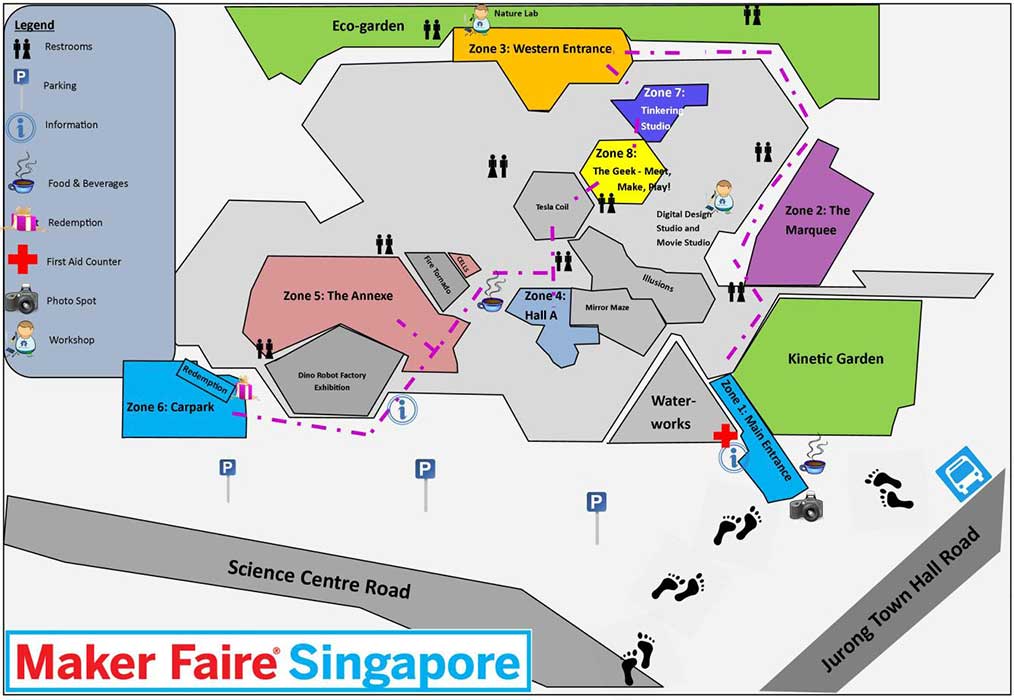 This creates a sense of adventure for kids who can go around exploring all the various sectors of the center and via maps to get to their points of interest. Well labeled maps as well as marshals are stationed at prominent entrances throughout the science center to help. Most of the activity areas are air-conditioned indoors, which zones such as the water rocket firing areas and DIY power tool workshops (Zone 3) being outdoor areas.
The Fair opened from the 20th July with the Maker Summit and conference, followed by the public Maker Faire over the weekend of 22th and 23rd July. Entry day passes can be pre-purchased online at a $2 discount (usual $8.50) with complimentary admission to the entire science center compound and permanent exhibitions (excluding special paid galleries) via a coloured wrist band. Visitors over 60 years of age can enter free. Here is a rundown of the Maker Faire Zones:
Yarnbombing at Zone 1
Just by the entrance of the Science Center is the Yarnbombing section. Organised by Yarnbombing Singapore, the section showcases the use of technology and computer aided methods to visualize and produce the templates of your custom designs, as well as having machines automate yarn knitting and even make Crochet 3D Bees or Mushrooms. These are important aspect of the maker movement which revives traditional crafts using new approaches and combining them with technology.
Maker Wares "White tent" Zone 2
The Marquee is a massive white air-conditioned tent housing small independent makers showcasing and hawking their wares. Notable items on display here will have to be the myriad of textile-related wares, such as knitting, yarn, cloth weaving and DIY teddy bears. One such maker is Odoroki Studio with their Resin charm and pendants.
Stochastic elegance showcased their embossing methods and card making. Art Lace Studio and Anjali Design were there to showcase techniques in Glass Art painting via workshop for all ages. There were several nice paper crafts such as pop up paper models and Starwars themed paper Mache helmets, where paper can be cleverly formed to any shape you desired, cured, set and painted to a model of choice.
Flying water Rockets. Straws and Powertools at Zone 3
The Science center Western Entrance is one of the two outdoor areas and one of the few buzzing Maker zones where you can have ago at the more messier aspects of being a Maker. Have a go at launching a wooden tennis ball catapult or pump up a water rocket to fire with your friends at the science firing range. Bosch and sister company Dremel are there too with two outdoor tents, where you can have a go with supervision at using their power tools to cut out small blocks of wood to a stenciled shape of your liking. You can even make something functional like a rolling toy car or an animal with moving legs for instance.
The hands-on aspects of this area is refreshing, and it's heartening to know that guests do not mind getting wet or their hands dirty firing water rockets or woodworking. Most Singaporeans only brush with woodworking may probably be just a couple of lessons in Secondary school on Technical studies- often shunned upon as a "poor man" career, good to see that impressions are changing.
In the midst of the spewing sawdust, water sprays and the sun are live open welding demonstrations, as well as a showcase of the SUTD Fabrication lab, a mobile container lab which can be deployed in any area housing a number of CAD workstation, and CNC machines such as mills and 3D Printers.
You can also build simple structures with Straws with Strawbees, join Jason Koh with his Plastic Origami Crafting, learn a thing or two about Sustainable Living Labs or attend outdoor Maker workshops at the Early Childhood space.
Tinker and GEEK out at Zones 7 and 8
Located adjacent to the Zone 3 outdoor area is the Tinkerlabs Tinkering Studio (Science center Digital design studio). Full day workshops and talks on Tinkering and electronics run daily from 22nd to 23rd July taught by science center staff and various community partners and volunteers. This large workshop area is also what I like to call the "Tinkerer's Junker station", where kids can tear apart a range of spoilt consumer electronics to identify parts and find out how they tick on the inside. This encourages inquisitiveness within the kids, which is the basis of the Maker community- where it can spark their interest in STEM related fields, such as electrical or mechanical engineering. Recognize that motor or MOSFET in there somewhere? We are here to identify and help!
This includes opening up (destroying) a range of devices, such as cameras, projectors and computer parts often leaving behind a spectacular chain of destruction. These activities are all conducted under supervision from the science center staff. In addition, kids can design bridges on a modular wall to transport a marble from one end of the wall to another. Directly connected to the Tinkering studio at Zone 7 is the Geek out Zone 8. Zone 8 is a dark room tall-ceiling area home to a number of interactive digital motion stations and play areas. Have a go at remotely controlling a Sphero robots via Bluetooth on tablet devices.
There are motion cameras stations which capture your movements into interactive segments, such as producing ripple patterns projected onto a wall, or simulate virtual fighting with your friend for knockouts. There are digital play mats where you can play games with other kids or destroy space invaders using laser pointers.
Toys, drones and Jewels at Zone 4 Hall A and Zone 6
Zone 4 and Zone 6 are the smallest sections situated in the Fair, with mostly commercial sellers hawking their products. Such as the Red Dot Drones providing Drone Racing information. The Preschool Market in Zone 4 offers workshops for educators and parents on their playmaker product range of interactive learning toys. The JeweLab at Zone 6 (previously at the open air carpark) at Level 2 of main Science Centre building allows you to have a hand at making your own bracelets using beads, charms and stones. Zone 6 been moved indoors due to hot weather over the weekend.
Zone 5 Science Fair
Last but not least, the Annex is the largest of the Zones in the Marker Faire, it occupies almost the entire exhibition space of the Science Center Annex building laid out like a mega science fair with a number of rowed booths within the multi-purpose hall. You enter this zone through a sheltered non-air conditioned area from the main building Tesla coil area into the Fire Tornado courtyard. Here, a museum gift store and a small snack shop serving hot food reside here if you ever need a calorie recharge from all the exploring.
The entrance leading up to the Annex halls are lined with Tinkertanker vendors selling Aurdino and Raspberry pi kits, as well as novelty food items made for maker machines, such as candy and coffee. Really cool items on display here will include a live robotic music band complete with articulated arms and LED lighting, as well as coding studios. Upon entering the air-conditioned Annex hall, Barangshop and Craft Studio booths greets you at the front entrance of the Annex showcasing their DIY car kits and leather craft as well as one booth demonstrating a DIY cardboard bladeless fan, a low-cost approach to your overpriced Dyson fans indeed.
Rows after rows of Makers on display here, some are here to showcase their works and final year projects, or network with like-minded Makers. Some are here to sell an initiative, service or hawk their goods of trade. The Annex is also where most of the school booths are located too. SUTD (Singapore University of Technology and Design) got about running a light sensing bug, with their students running a 3D printing production line for door gifts or karting around on a remote controlled mover bot base.
Participating polytechnics includes Singapore Polytechnic, Ngee Ann, Republic and Nanyang Poly, together with ITE College West. Nanyang polytechnic was there showcasing their notable Final year projects, such as a prototype automated HDB clothes drying line, while Singapore Poly has their range of mobility and elder care devices on showcase too. ITE West was there to provide lessons on solder your own LED key chain circuits where when paired with a battery glows to an LED colour of your choosing.
It was nice to know that Maker Faire has strong support for budding independent makers too. The Annex is home to a number of booths manned by a number of independent makers, this includes a Light saber appreciation group teaching budding Jedis the craft of DIY-ing your own Light saber, crystals not included! Go fly kite, a local company in the novelty and motorized kite business have their range of kites on display as well as sharing their kite construction techniques. There were a also number of booths promoting their independent kickstarter projects arousing interest of the general public to back their project, this included an automated bicycle helmet strap-on turn signal with brake function.
One of the best Maker items on display will have to be a robotic parrot, as well as a remote controlled BB-8 made out of 3D-printed parts in the Funbie Studios sector of the Annex. The creator was there to share his building experiences as well as the challenges he faced getting the robots to work.
3D Printing Galore
Main sponsors Cognizant and Autodesk were promoting the use of 3D printing for modern day additive manufacturing and rapid prototyping. Technicians were around to run 3D printing demos for young makers and showcasing their design processes of putting an idea from the paper to the computer and the final 3D printed product. 3D-Printing-Hub.Asia has a large booth area for kids to have a play with their 3D printer pen, which is essentially a hand-held filament extruder, allowing you to build your 3D part by hand and is kid-friendly. Workshops running in this zone includes one by Tinkertanker (Come and play in the Caine's Arcade), creating wood and Tote Bags by Timba as well as DIY race cars by Urban Playspace.
Many small independent companies, and not only main-sponsors Autodesk have 3D printers on display and use at the Maker Faire. Most of the printers however, are they just purely to showcase and promote the technology and not actually do any hard-core on-the spot Maker thinkering. The 3D-printing modification industry is also non-existent here. 3D printing is still largely an unheard novelty in Singapore. But it was pleasing to know that the Maker community had embraced and widely adopted 3D printing in the masses at this year's Singapore Maker Faire- You can't pass a row of tables without coming upon a 3D printer or equivalent here.
Making for a better Maker tomorrow
It is nice to see the gathering of technology enthusiasts of their community, crafters, educators/students, tinkers, engineers, hobbyist, and commercial exhibitors all in one melting pot. Outstanding and novel items on display here which really catches your eye are lacking in the Singapore Maker Fairs, which I look forward to in future fairs. Of course it won't be fair to compare this to the degree of ingenuity and craftiness of the Makers in the US.
However, I find it saddening at how the current Singapore education system does not equip kids these days in hand-on skills and general knowledge for inventorship, or at least in areas beyond textbooks and exams. Children in Singapore are not as street smart as those in other developed western countries and we fair very badly on the creativity realm.
Thus in Singapore at least, where the DIY culture is not mainstream, much of the focus of the Maker Faire is to introduce the concept of making to the masses, particularly arousing interest in children and their parents to take up interest and even career choices in science, technology and engineering to encourage students and kids to explore areas outside of their textbooks and comfort zone through these combination of exploratory, hands-on and experiences spread across the Fair.
much of the focus of the Maker Faire is to introduce the concept of making to the masses, particularly arousing interest in children and their parents to take up interest and even career choices in science, technology and engineering.
This is also of concern as Singapore is facing a shortage of engineers, scientists and people in the technical line of work, given Singaporeans (parents and students alike) often being more "economic-oriented" in job selection. This includes seeing technical work in Singapore being "economically unattractive", "laborious" and "not favorable" in society, in the likes of cushy and more prestigious say, banking, finance and medical jobs.
And we do hope we have subsequent runs of Singapore Maker Faire to change that mindset. Impressions are slowly changing. Singapore is in generally showing its dedication into building a Smart Nation, where hands-on learning and the Maker Culture are key innovation enablers. Innovation (as buzzy of the over used buzz words you can every encounter here) is key to a country's survival, and good inventions often originate from actually putting a good idea down to work. A strong DIY culture and inventorship is essential to get these ideas into reality.
And that said is the essence of the Maker movement.
See you next year!