Nagashima SPA land is a theme park not too far off Nagoya Japan in in Kuwana, Mie. With a large number of roller coasters, a waterpark and hot spring resort all within the theme park grounds by the Ibi River bay, Nagashima spa land is synonymous to almost to like the Cedar point of Japan- the park is one of the few "traditional" full theme parks in Japan with a massive compound complete with 45 rides and home to 12 roller coasters.
Dominating the entrance of the park is The Steel Dragon 2000 hyper-coaster with its 97.01m tall hill lift and 93.51m first drop. The coaster runs over the main entrance through both ends of the park and is the 6th fastest (153km/hr) in the world, you can recognize it by its distinctive red tubular tracks and red coaster trains which regulars does their roaring runs through the park. Steel Dragon does offer a pretty good first drop, gaining speed easily through urethane wheels on B&M trains, not only offering a smooth ride, but smoothly taking the over-banked corners with ease too. The 2,479 m continuous looping circuit lasting 4 minutes ends with a sequence of bunny hops, offering really good airtime.
Over view of Nagashima Spa land theme park at sunset from the park Ferris wheel.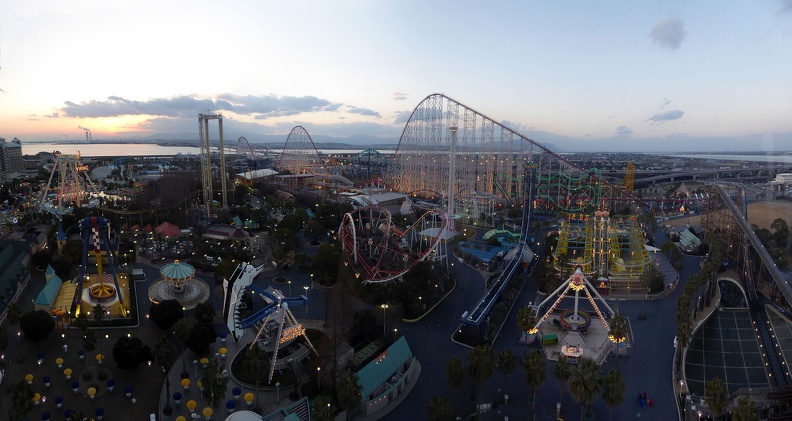 The other main coaster here will have to be Acrobat "flying bat" coaster, a B&M flying roller coaster, which is technically a clone of the Seaworld Orlando mantis roller coaster. You even get the same water jet elements when the train passes over the water. Two coasters Ultra twister and White cyclone were not operating on my visit.
Nagashima Spaland is also home to a variety of classic rides, almost bringing you back in time, such as a corkscrew coaster, space shuttle, an elevator-style vertical drop tower and even a looping shuttle coaster. Interesting rare rides will also include electrical bobsleds, where you can zip through half-pipe tracks at rather blazing speeds. The log flume ride will get you totally drenched; the park recommends you to ride it with a poncho, which they will sell to you at the ride entrance.

The park Ferris wheel is one ride not to be missed, its central location near the giant Frisbee offers unobstructed panoramic views of the entire park, overlooking the entire White cyclone wooden roller coaster (where you can really appreciate it's vastness), as well as the open bay of Ibi River. Here you can also have an overview of the Viking ship area, where you can really deduce the Japan love of Viking ships by their sheer sizes and number of them all around the park.
You can also find a western-themed area here complete with a mine train roller coaster and a very well-maintained and near pristine western saloon shootout arcade stand, a gem and rare find indeed. A good thing on my visit on a weekday was the park was relatively empty, but almost all the rides were operating, so there wasn't much queuing required at any of the rides.
The food at the park was good too, though not all food stores are open on the weekdays. In case you are wondering why the theme park is called a "Spa land" Entry to the theme park also grants you complimentary access to the park's resort spa and Osen hot spring. The Osen here is a natural outdoor spring with indoor showers. Here you have a choice between a number of enclosed, sheltered or open air hot springs. You get about 4-5 different types of pools and Jacuzzis for both genders. The resort opens till late where parks guests usually retreat to relax after a long day at the theme park.
In all Nagashima Spaland is a fantastic park suitable for all ages. There are several elements which appeal to thrill seekers yet still retaining its family-friendly feel. It is definitely good for an entire day out.
Check out more photos of Nagashima spa land here (Trip in Jan 2017).