The Cambridge student diaries- 2nd term of sophomore year.
Hey mum, shez,

It had been sometime since I last wrote a decent update to you and dad, so I figured I do one now since I have some time before bed, juggling between a modest 4 hours of sleep, a project presentation and a judging panel in 5 hours time. It had been 1 week since my time back here in Cambridge from California. It's the Lent term now and if you remember from the last year, it's the 2nd term of the three we have here in the university.

Things are going on fine here. This term we get to get together with engineers from other colleges for an integrated project (IDP for short), where we get few weeks to build robot to perform tasks set by the lecturers and pit them against other teams. There is a prize for the best performing team. I do hope that my prior experience with robotics will give my team an edge, not to mention a headstart on our project. Interestingly, the common pitfalls for the project, as told by lecturers and my seniors are teammates being too egoistic about their potential in contributing to the team. Take it like a bunch of Red Indian chiefs in a team who only give directions and gets nothing done with no followers, or doers- definitely not good.

This came not much of a surprise for me, considering it a side effect coming from the world's no.1 ranking university (yes, glad we beat Harvard this year:) )- You'd expect almost every student here to be somebody- once or at least a leader in a part of their lives, raging in their blood to "lead" the team to oblivion as if their lives depend on it. Initially I intended to adopt a "follow and get things done" attitude when first meeting my team, not to mention make personal sacrifices- reining myself in as a team leader for the benefit of the team and only intervene when I see the dire need to pull the team only just as they are running off a cliff.

Thankfully I have a fantastic team, everyone found themselves well into their positions and work in unison without much coaching or intervention, really what could be better? We work in teams of 6, paired 3 sub-groups of 2 (mechanical, electrical and software). My teammate is this big guy who plays for the college rugby team, despite my bulk from athletics/track and field, I just feel so tiny standing beside him.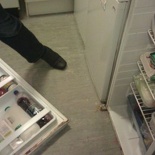 Things back in the college dormitories gets, oh well, better too. Besides a broken fridge door in the communal kitchen which left my dorm mates stumped on how to fix it (I was the only available engineer, so it's not a matter of choice), we got a new microwave oven just late last month- only just because some idiot tried microwaving food in a metallic bowl which completely fried the magnetron in the old oven, completely junking it.
Milk and utensil thief is evident, but not common from the fridges. Well, guess not until we all started marking all our groceries in the kitchen with permanent ink as if our livelihood depends on it. Guess that's what you get staying with people who are so smart on the block, that common sense evades them. Then there's the rumor of people from other dorms coming over to nick the items too. I once lost a large 2 liter tub of ice cream! 🙁
But I guess that what makes my block interesting this term. It's these very people who I get together every weekend cooking potlucks and trying different cuisines from all over the world, it's an ethnic melting pot, not to mention having regular games of pool, table soccer or hanging out at the pub over a good beer and drinks by the college clubroom after a long day. My immediate neighbors on my floor is a guy from Nigeria, and a girl from Denmark. Then there is this Irish and Indian girl, a Chinese and American boy who lives on the upper floors. My good friend John and this neighbor Andrew, from Canada lives on the floor below me.
Technically I had not done my laundry from my US trip, yet, mainly because I only lug off to the washer after my laundry basket's overflowing in typical bachelor-pad style and partly, because I did a fair bit of washing and washed my blankets/duvet/bedsheets before my trip so I can leave them to completely dry for a reasonable time in my room until my return from the states (and pack them thereafter). Currently, my basket is only half-full. And no, the £2.00 fee to do a wash and dry does not give me an incentive to do more washes than I really need.
On academics, I am getting the hang of work and starting revision for the big tripos exams in less than 6 months time- not because I could, but because I know I will need it- knowing how often I usually side-track from my school work on other commitments now. Moving on, I technically… well ok, I failed my start-of-term mock exams which took place on the first day of school this term. But you can blame me on it for spending only 12 hours studying for it (lesser if you count the few hours I dosed off at the study table) once I arrived Jetlagged back at London Heathrow.
Remarkably, my supervisor wasn't cross with my results, despite him not knowing of my blatant ordeal the night before, which I guess is synonymous to the barrage of "excuses" he receives from students everyday even if I told him anyway. He cited that "I could do better" and also considering the fact that my score was actually on the upper 70 percentile of the class, despite it being a failure. It's hilarious in class when everybody started comparing scores to see who was the biggest loser. It turns out there was no incentive to score better or even pass- much to my supervisor's dismay.
Currently I am up for applying for an exchange to study next year at MIT under the Cambridge University-MIT exchange program. They are quite selective on who they are bringing up this year, considering the lack of funding from the university side, completely eliminating all students from all the other departments (chemistry, physics, etc) to go. This with the exception of us lucky engineers who are fortunate enough to get a sponsorship from BP to send only 16 students over to Boston next year. You think cleaning up their oily agenda could have anything to do with it? 😛
Jokes aside, I do hope I get selected, my grades were not totally spectacular last year, and a second class honors is the bare minimum you have to even poke your letter out of the horde of applications they receive every year. I do hope my involvement in non-academic activities and college representation will make up for it, considering that too, being the main reason why I didn't have much time to study last year.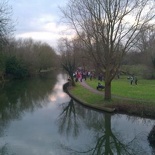 The weather here in Cambridge is definitely warming up. I need not dress up like a Michelin man when heading out anymore, nor being engulfed with my freezing breath fog each time I speak or during my runs. Things are warmer in London, where I do see myself frequenting more often with good friends I meet every other month. The clubs, parties and the drinks there are great too.
Chinese new year will be on in a few days time. I hope things are warming up, well literally back home. I was told by college mates (who flew back home over the holidays) of the Christmas decorations coming down around town and it's up with the decks of Red now, particularly all around Orchard road with Chingay coming too. It's just too cold here to even think about it. I mean the highest temperature here is like 5 degrees and that is the lowest it can ever get in California when I was there 2 weeks ago! Can't say the same for it back home, where it's always scorching. Anyway, I have plans lined up for the magical 3 days of the new year ushering the year of the Rabbit, with mainly college formal dinners and steam boat impromptu potlucks over at friends. I miss the reunion dinners we used to have together as a family back at home, I wish you guys at home the best for the coming lunar year. Say, talking about that, I guess it's also time of the year where you should receive those red packets from my scholarship provider again. Amusingly and "eye-rollingly", they always never fail to do that every year.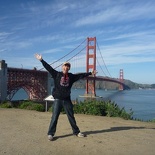 I still have all your Xmas card on my wall, as well as a few additional ones from friends, dormmates, acquaintances and many new buddies I made when I was in the states, yours sit at the top of all of them. The Paris trip was excellent and I got to climb up (and down) the Eiffel tower. In between a tour from San Francisco, I stayed with a friend just off the San Francisco bay, who kindly offered me to crash his couch before I toured the Santa Clara (silicon valley) and San Jose area. It was at this friend's place where we chill out with the whole house to ourselves, watching movies over large 60 inch screens and playing Rock Band with 6 others almost everyday in the basement. There is just this much I can note down this late at night, will tell you more about my trip adventures in a separate email.
Lastly, I am thinking of fixing my ankle injury this summer when I am back in Singapore, it's a great annoyance on my long runs and when ice-skating (as raised with my last email to you), also so I can recover proper so I can build the strength of my left leg- so I can finally get back into athletics in college and make the Varsity team. It had been ages since I last ran a marathon and very itching do be back at it again in form. I am trying to properly draft an email to docs and ask for his recommendations, which I will CC that to you and sis. This means putting me out of action for my time back home and possibly on crutches with only one good right leg. Thinking about it, I feel sorry if that might possibly foil any of your plans if you have planned for during my short return back home. It was a blast for you and dad to show my around the Marina Sands development last summer, I couldn't feel any more loved, yet guilty for this plan now.
Oh yes, one thing, can sis do me a favor? I feel that Dad is seriously lacking in our conversations here, will it be possible to teach him how to email? I believe it won't be as hard as the time we taught him to SMS. Possible to set him off running with an email you can setup for him? (try *censored*@gmail.com). Maybe that will help. 🙂
P.S I noticed that I've not updated my blog in ages, it's real hard to keep track on what I actually do in my diaries now, and rather than trying to do dated blog posts with memories vaguely supplemented with contents dug off my Outlook "sent folder", I will be posting excerpts of this email on my post as an update of what I am doing now to my readers. Hope you don't mind.
Lots of Love, best regards and take care,
Shaun
=)